Murray Blair
---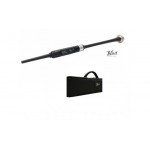 The Blair Digital chanter produces real Highland Bagpipe, Scottish Smallpipe and Practice Chanter sounds, genuine with a rich full tone and in tune to the drones.  They've been recorded in a real-life piping environment to further enhance the authenticity of the instrument without any synthesising or colouring.  Even the metronome includes actual percussion sounds with 8 different beat patterns.  There are actual holes on the Blair Digital Chanter, a true instrument just like the traditional.  What you can do with this chanter is simply amazing.
Plain high-grade aluminium mounts with logo.
Features:
Highland Bagpipes   ~   Scottish Smallpipes   ~   Practice Chanter   ~   Pitch range 440 - 486hz   ~   Metronome   ~   Audio output 3.5mm    ~   USB (MIDI, recharging battery and updating software)   ~   Rechargeable battery
Supplied with high-quality case made by Bagpiper cases, and USB lead.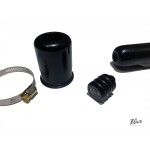 Attach the Digital Chanter into your full size Bagpipes!.
Designed by master-pipemaker Bill Travaille, here's how's it works.
A Spigot is screwed into the mouthpiece of the chanter, and an inverted stock is inserted into a pipe bag. The inverted stock is tied in with a hose clamp.
The Chanter is then inserted into the stock, secured by the 3 embedded O rings on the spigot. This makes the chanter easy to insert, position for an ideal playing position, and remove when finished. More importantly practice anytime of the day with pipes on your shoulder, in position, with headphones! (even when others are in asleep!)
The adapter can be installed into a full size bagpipe or into a standalone bag without drones.
Parts:
• Spigot, anodized aluminium with embedded O rings
• Inverted stock, Acetyl
• Hose clamp
(Bagpipes not included)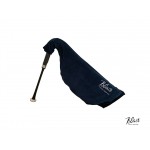 • Ergonomically profiled
• High performance moulded memory foam
• Maximum comfort
• Embedded BDC chanter stock
• Includes plush velvet bag cover with Velco & Zip access
• Includes the BDC anodised connection spigot
The 'Ergo' Pipe Bag is moulded from high performance memory foam with a profile shaped to position around the rib cage, rather than into like traditional bags (see video below). The chanter is attached using a spigot (supplied with the bag) and easy to remove within seconds. The Ergo bag offers incredible comfort for playing and finished with a plush velvet cover so audio cables and wireless gear can be out of sight.
The Ergo delivers the Blair Digital 'Bagpipe' as a full performance instrument.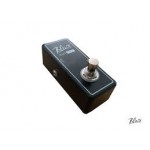 Stereo mini foot-switch pedal to instantly stop the Blair Digital Chanter, the professional way!