Pipe Cases
---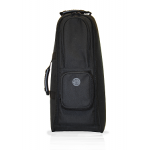 The case features 2 concealable padded shoulder straps and 2 handles for carrying methods. There are internal compartments that provide protection for your chanter. As well this case features external compartments to hold your maintenance items in. It is 26.5″ x 12.5″ x 7″ The black case open to the side more like a traditional suitcase.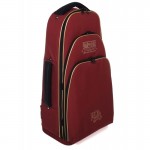 Weight:
2kg
7kg (with bagpipes and accessories)
Dimensions:
External:
Widest: 38 x 24cm
Narrowest: 25 x 15cm
Length including handle: 70cm
Internal:
Widest: 35 x 21cm
Narrowest: 20 x 10cm
Length: 60cm
Exterior Dimensions:- Height 55cm (21.65")
Width 33cm (13.00")
Depth 20cm (7.87")
Weight 2.3kg (5.06lb)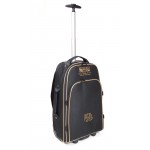 Weight:
2.7kg (approx. 6.5kg including bagpipes and accessories)
External Dimensions:
55cm x 35cm x 20cm
The PIPE CADDY™ is designed to conveniently carry any set of Highland bagpipes (including those with the Ross Cannister system) when a conventional carrying case is unavailable. Designed by a piper for pipers, this unique back pack allows you to carry your bagpipes with or without breaking down the bass drone. Ideal for parades, ceremonies or any piping event when you've left your case somewhere and have to carry your pipes.
The PIPE CADDY™ comes with an adjustable shoulder strap, is made of light yet rugged "linebacker" nylon. A water repellant coating on the PIPE CADDY™ further protects your pipes. Included is a cordura™ carry-case which fits on a standard kilt belt to neatly hold the PIPE CADDY™ when not in use.