"Learn to Play Bagpipes" Beginner Package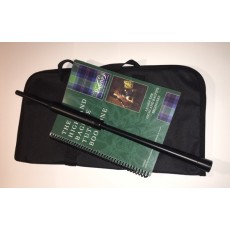 Brand:
Product Code:
Learn to play - kit
After its first publication in 1953, the College of Piping's Tutor 1 easily become the most successful instructional book for the Highland Bagpipe, with sales now approaching the half million mark. Since the 'Green Tutor' first appeared, there have been advancements in teaching techniques and digital technology, as well as the creation of other piping institutions and educational establishments.
Seumas MacNeill in the 1970's, along with John MacFadyen and John MacLellan, created the Institute of Piping, which was instrumentally responsible for the establishment of a system of piping examinations leading to the first appointments of full time salaried teachers of piping in Scotland's educational system. In turn, the Institute developed into what is now the Piping and Drumming Qualifications Board, (PDQB), an organisation which comprises the five main educational establishments in Scotland, and whose educational qualifications are now fully accredited by the Scottish Qualifications Authority.
In 2017, the 'Green Tutor' was edited, keeping faithfully to its original flow and integrity, in order to bring it into line with these PDQB/SQA guidelines. Students will now have fully explained lessons which will track the PDQB/SQA standards and examinations. It is of great advantage to pipers both in Scotland and other countries to gain the academic currency which comes along with these qualifications. Detailed information and syllabi are contained in an appendix at the end of the book.
The CD has been replaced with a link to the College of Piping website as mentioned at the end of the book.