Ezeedrone Drone Reeds - Increased Absorption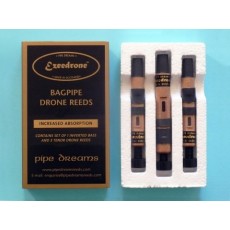 Brand:
Product Code:
Ezeedrone Drone Reeds - Increased Absorption
Manufactured from a material with very similar tonal qualities to natural cane, Ezeedrone bagpipe drone reeds produce a sound which is practically indiscernible from that of the best traditional cane reeds.
Even when striking in, Ezeedrone tenor reeds provide a pleasing double-tone which translates to a full sounding and very steady drone tone when the bagpipe is played.
Ezeedrone bass reeds are equally steady and produce a rich, deep, quality sound, which is one of the main characteristics of all best sounding bagpipes.
Ezeedrone reeds are manufactured to a very high level of precision and are subjected to rigorous quality checks prior to distribution.
They are pre-adjusted and will settle immediately in most bagpipes, requiring little maintenance and producing excellent harmonics when accompanied by a good chanter with a well balanced reed. Any further adjustment should be made with care and in accordance with the instructions available here. Specific questions may be directed, via e-mail to This email address is being protected from spambots. You need JavaScript enabled to view it.
The material used for these reeds has been designed to absorb more moisture whilst maintaining the stability and tonal qualities associated with standard Ezeedrone reeds. To ensure optimum performance it is recommended that these reeds be allowed to dry naturally after long playing sessions.