Bannatyne Hide/Synthetic Bag with zipper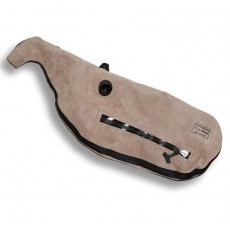 Brand:
Product Code:
Bannatyne Hide/Synthetic Bag with zipper
Left Handed Pipe Bags: All bags are right handed (played under the left arm) as standard. If you require a left handed bag then please use the Additional Information field at checkout.
Pipe Bag Sizes:
Small – Depth 228mm x Length 610mm
AG Extended Small – Depth 241mm x Length 675mm
Medium – Depth 267mm x Length 675mm
Large – Depth 292mm x Length 735mm
Willie McCallum Custom – Depth 255mm x Length 700mm
The most popular offering of the Bannatyne range of pipe bags with the zip at the side of pipe bag providing access to drone stocks giving easier fitting of moisture control systems.
The new Willie McCallum Custom bag is designed to be a better ergonomic fit for pipers. It is very slightly bigger in girth than a small but is shaped quite differently in front of the drones to allow greater freedom on the forearm, which can often bear the weight of the pipe with other shapes.

The Zip is at the bottom of the bag.