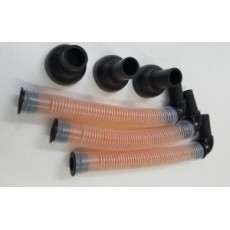 Brand:
Product Code:
Bannatyne Dri Flo MCS
Easy to install silica gel based system

Major Features of the system
• Longer playing time, keeps drone reeds and drones dry
• Excellent Air Flow to drones with unaffected drone volume
• Lightweight compared to other systems
• Easy visual check when gels need dried
• Starts and Stops are straightforward with no valves
• Easy to Install and Remove
• Suitable for any climate
• Gels have 70% absorption giving longer playing time in between drying
• No dust particles
• Strong flexible hoses prevent collapsing

The product was designed as a collaboration between Craig Bannatyne and Willie McCallum.

Over the last two years, pipers using this device have won first prizes at every senior professional event. There are several players currently using the product, including Willie McCallum and Callum Beaumont, who are at the forefront of solo competing.

The device is also versatile in that it can be used successfully in a pipe band situation and starts and stops do not pose any issues.

Product includes Dri-Flo Moisture Control Tubes, and Connectors for the drone stocks.